The Stevens Institute of Technology
Breakdown of "Collaboration/Competitive" at Stevens
By Major
| | |
| --- | --- |
| Business - Management and Administration | B+ |
| Chemical Engineering | B+ |
| Chemistry | B- |
| Civil Engineering | A- |
| Computer Engineering | B |
| Computer Science | B |
| Electrical Engineering | B+ |
| Engineering Department | A- |
| Math | C |
| Mechanical Engineering | A- |
| Music - Composition/Theory | B |
| Other | B- |
| Physics | A |
| Telecommunications | A |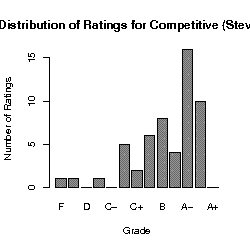 Against similar schools
Collaboration/Competitive compared with similar schools in class.
Collaboration/Competitive
"
Before coming here, I looked a lot on this site and others to find out about the Music and Technology program, and I couldn't find much. I ended up co...
Read full comment
"
I went to this place for 1.5 years. Student life is a joke. Some parties are alright, but the campus is sooo small, there is nothing else except for t...
Read full comment
"
This is my third time critiquing the school, and looking back at my other posts, it's obvious that my increasing maturity over the years has affected ...
Read full comment
"
To be frank, Stevens was actually my last choice school. However, I could not have been happier being a student here. Stevens has everything you need ...
Read full comment
"
The educational system and surroundings are great. The professors are very helpful and friendly. It is even 10 minutes away from Manhattan. You won't ...
Read full comment
"
It really depends on you what you take away from a Stevens education. In 4 years, I obtained a Bachelors and a Masters and completed two CO-OP work as...
Read full comment
"
It has good environment,small campus area(just a walk distance to class),near the New York city, excellent choice for engineering students especially ...
Read full comment
"
At the time, I was like a lot of my undergrad friends; we complained that the parties weren't what they were at other schools, everyone was a dork, th...
Read full comment
"
Many people say that the first year for a student is probably the most influential and most confusing time of a student's four to five year college ca...
Read full comment
"
I have just finished one semesters at Stevens and have had a relatively good experience so far. I will address several aspects of the school here: Ac...
Read full comment